4 Tips for National Pet Preparedness Month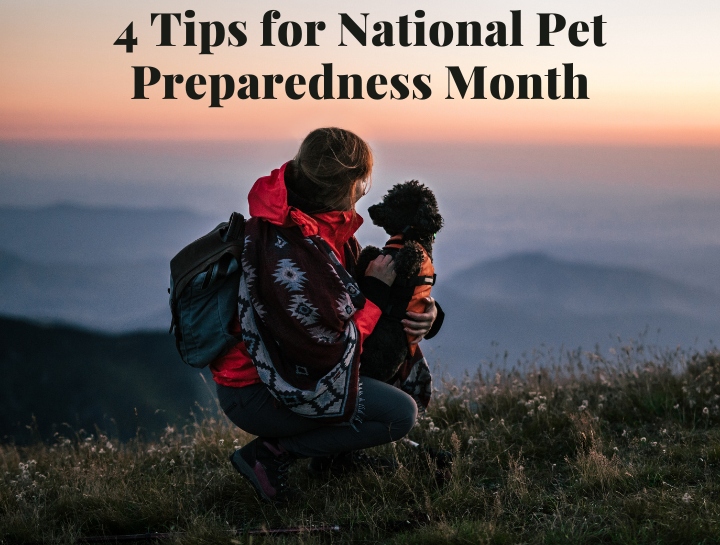 June 2, 2023
Did you know that June is National Pet Preparedness Month? This is a great opportunity to get ready for any disasters or emergencies that might come your way. We've got some pawsome tips to help you and your furry friends stay safe and sound:
ID Your Pet
Make sure your pet has proper identification just in case you and your fur baby get separated. Microchipping is the way to go! It's a tiny chip that stores your pet's info, so any vet or shelter can scan it and give you a call. Don't forget to keep the chip info up-to-date and include meds and allergies on their tag too.
Know Your Surroundings
If you live in an area that's prone to floods, fires, or other natural disasters, it's essential to know where you can take your pets. Compile a list of pet-friendly hotels along with friends' and family's addresses and phone numbers in case you need to evacuate.
Stick Together
Disasters and emergencies can be scary for all of us, especially our pets. Make sure they're with you on a leash when you're outside and find a safe and cozy place if you're inside. Keep them close and don't let them run away!
Prepare Your Emergency Kit
It's important to have a disaster kit for your pets. Here's a list of items to include:
Food
Water bottles
Extra prescription medications
Vet records
Poop bags
Litter and pan
Leashes and collars
First aid kit
Food and water bowls
Fave treat or toy
List of important contacts
Soft towel for your pet to lay on or as a makeshift harness
Don't forget to add any special items that your pets need. They'll appreciate it!
If you have any questions or need help preparing, give us a call at (352) 750-3000. We're always happy to lend a paw!