Spring Pet Safety Tips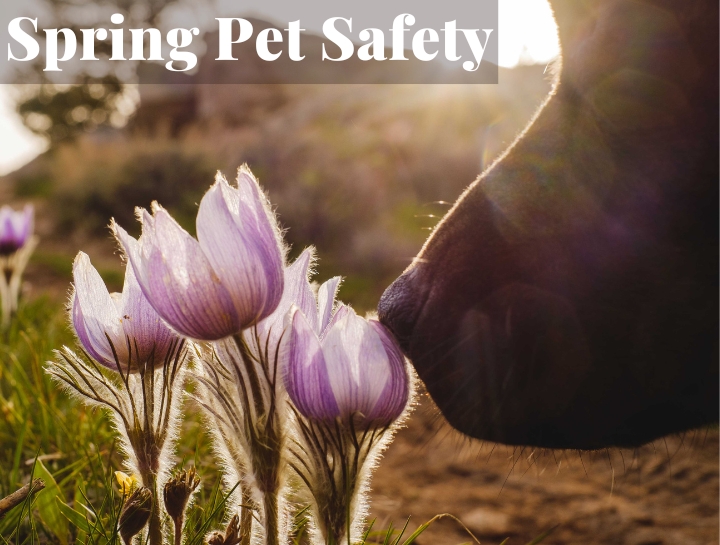 May 17, 2023
As we gear up for the spring and summer months, it's important to not only consider the safety of our furry friends but also their health. May is Lyme Disease Prevention Month and Allergy and Asthma Awareness Month, making it the perfect time to take extra precautions.

Here are some tips to keep in mind:

Bugs and Critters
There are several tick-borne diseases, the most common being Lyme disease, which can cause serious health issues for humans and pets. Make sure to regularly check your pets for ticks and talk with your veterinarian about the best tick preventative for your pet. Additionally, avoid walking your pets in tall grass or wooded areas where ticks are known to thrive.

Be sure to also watch out for those buzzing bees and wasps. If your curious pup or playful kitty gets stung, scrape away the stinger (if you can find it!). Remember to keep insect repellents and sunscreens away from those cute little paws. Ingesting these products can lead to tummy troubles and neurological issues.

Plants
Keep an eye out for plants that can be toxic to your furry pals, like azaleas, rhododendrons, daffodils, tulips, and lilies. Fertilizers, insecticides, herbicides, and cleaners should be kept out of reach because they contain harsh chemicals that can be dangerous when absorbed through their paws or ingested. To find out if your plants are poisonous, please visit the ASPCA website.

Grooming
Time to get your fur babies looking fly! Brushing their coat regularly can prevent matted fur that can attract pesky critters, cause sores, and trap in heat.

Rising Temperatures
Make sure your pets stay cool and hydrated when they're outside. If possible, provide shade and air conditioning (because who doesn't love AC?). If you don't have AC, a well-ventilated doghouse or a shaded porch with a fan or misting system can do the trick. Keep an eye out for heat stroke. Common symptoms include:
Excessive panting
Excessive drooling
Difficulty breathing
Vomiting
Diarrhea (with or without blood)
Weakness
Incoordination or stumbling
Sudden collapse
Seizures
If you suspect your pet is suffering from heat stroke, call your veterinarian right away.

Seasonal Allergies & Asthma
Allergy and asthma symptoms can be exacerbated during the spring and summer months due to pollen and other environmental allergens. Keep an eye out for signs of respiratory distress in your pets, such as coughing, wheezing, or difficulty breathing. If you notice your pet is experiencing any of these symptoms, call us right away.

With pet allergies, you're more likely to hear the thumping of legs on the floor as they scratch their itches as opposed to outright sneezing. These allergies can cause atopic dermatitis, where the skin becomes inflamed and itchy. Trust us, you don't want your pets to have itchy hot spots and sores from scratching too much. If you suspect your pet is suffering from asthma or allergies, talk to your veterinarian about the best treatment options.

Now that you're equipped with some tips for a safe and fun spring and summer, go out and enjoy the sunshine with your furry buddies! If you have any concerns about your pets' seasonal care, don't hesitate to give Village Veterinarian a call at (352) 750-3000. Happy spring!